Muscatine High School
Class Of 1988
In Memory
Amy Fridley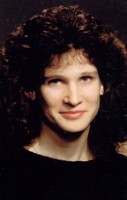 Birth: Mar. 9, 1970
Death: Sep. 14, 2002

Miss Fridley was born in Muscatine, the daughter of Robert Fridley and Judy Reid Streat.

She was a member of First Baptist Church and graduated from Muscatine high school in 1988.

Survivers include her mother, Judy Streat and her husband, Gary, of Muscatine; her father, Robert Fridley and his wife, Mary Jane, of Muscatine; a sister, April Hatfield and her husband, Mark, of Muscatine; a niece, Tara Moore; and a nephew, Ian Hatfield.

She was preceded in death by her maternal grandparents, Orville and Ruth Reid and paternal grandparents, Jake and Mildred Fridley.