Muscatine High School
Class Of 1988
In Memory
Lisa Frieden (Dowell)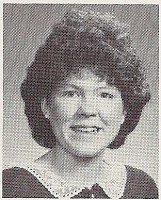 Lisa V. Frieden-Dowell, 36, Davenport, formerly of Muscatine, died Tuesday, March 27, 2007, at Genesis Medical Center - West Campus, Davenport.
Burial will be at Greenwood Cemetery. Casket bearers are John Frieden, Michael Frieden, David Frieden, James Janke, Chad Anderson and Mark Dowell. After the burial, a time of food and fellowship will be held at Zion Lutheran Church.
A memorial fund has been established at the funeral home. Online condolences may be left for the family at www.lewisfuneralhomes.com.
She was born June 20, 1970, in Muscatine, the daughter of Ronald F. and Linda K. Hansen Frieden.

She received her degree as a registered nurse from Marycrest College. She was employed at Genesis Medical Center and several nursing homes. She was a member of St. Paul Lutheran Church, Davenport, and was a fantastic cook and baker with everyone especially loving her cookies. She collected cookbooks and enjoyed reading. Her children were always the love of her life. She was liked and loved by many in the community and at work.

Survivors include three children, Cassandra Kay Dowell, Kathleen Suzanne Dowell and Megan Brianne Dowell, all of Moline, Ill.; her parents, Ronald and Linda Frieden of Muscatine; a sister, Lori A. Janke and husband James of Davenport; a brother, John C. Frieden and wife Bonnie of Marion; four nieces; and one nephew.

Lisa passed away on March 27, 2007. She died from complications from Asthma.