Muscatine High School
Class Of 1988
In Memory
Kathryn Gremmels (Danz)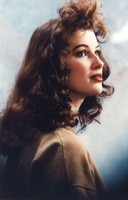 KATHRYN 'KAT' GREMMELS
MUSCATINE, Iowa - Kathryn 'Kat' Ann Gremmels, 48, of Muscatine, passed away on Thursday, January 18, 2018, at the University of Iowa Hospitals and Clinics.

Private Services will be held at a later date with burial in Greenwood Cemetery. The Ralph J. Wittich-Riley-Freers Funeral Home is in charge of the arrangements. Memorials may be made to the family in care of Sandy Kaska.

Kathryn was born on October 30, 1969, at St. Luke's Hospital in Davenport, the daughter of Dr. William Charles and Sandra Kay Paul Gremmels. She was a graduate of Muscatine High School, class of 1988. She also obtained her Bachelor and Master Degrees from St. Ambrose University. She had married Mark Graham and later married Marvin Danz.

She was a graphic artist and had worked for Muscatine Power and Water. Most recently she had been designing and making jewelry. She helped design the light display for the Norbert Beckey Bridge in Muscatine. She enjoyed art and won a Mrs. Muscatine Completion. Kat had also been a previous owner of Miss Kitty's saloon in Atalissa.

Those left to honor her memory include her mother, Sandy Kaska and husband, Dwight, of Muscatine; two brothers, Robert 'Bob' Gremmels and wife, Pam, of Fallbrook, California, and Jerry Purviance and wife, Kathy, of Wilton; one sister, Sue Gremmels-Sours and husband, Robert, Illinois City, Illinois; and special friend, Corey King.